There is more snow in the forecast and yet we are already marking down Minnesota's first tornado of 2014. It wasn't a strong one but never the less it touched down in an area that was also under a Winter Weather Advisory, so it definitely left its mark.
FUNNEL IN ST. LEO, MN MONDAY MARCH 31, 2014
RADR SHOWING TORNADIC STORM IN SOUTH DAKOTA
The last time a tornado occurred in March was back on March 19, 2012 in Waseca and Le Sueur Counties. Yesterday's twister was the 21st March tornado since 1950. The earliest March tornado ever occurred on March 18, 1968 just to the southeast of St. James. Here is a good example of how one big event can affect averages. On March 29, 1998, 14 tornadoes touched down in Comfrey, St Peter, Le Center, and Lonsdale, resulting in two deaths.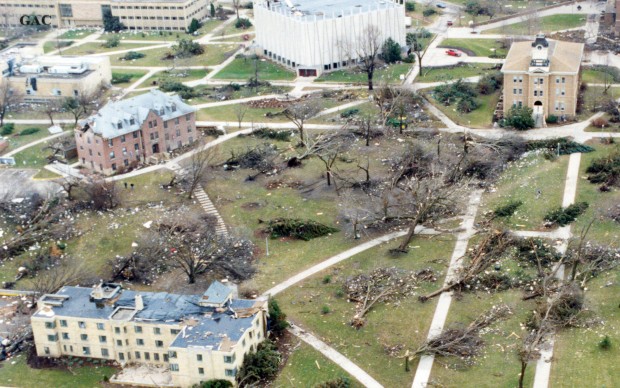 GUSTAVUS ADOLPHUS COLLEGE ST. PETER, MN 3/29/98
If the storms of that day never turned tornadic, then the tornado count for March would stand at just 7. If you do the math, 1% of tornadoes that occur in Minnesota occur in March. I guess that also means that there is a 99% chance that you will NOT see a tornado during the 3rd month of the year.
Below is a chart of the monthly averages of tornado occurrences in Minnesota since 1950. As you can see a March tornado is rare, with 87% of Minnesota tornadoes occurring during the months of June, July and August, which also happens to the months of meteorological summer.
In Minnesota, tornadoes have occurred in every month except for the months December, January, and February, which are also the months of meteorological winter. Once again, earliest tornado occurred on March 18, 1968 and the latest on November 16, 1931, east of Maple Plain.
We would love to see your weather photos! Email them to Photos@Fox9.com . Also I hope you will LIKE my Facebook page https://www.facebook.com/#!/SteveFrazierFox9Kmsp and follow me on Twitter at @FrazierFox9. Thanks for watching! FRAZIER

Read more: Tornado warning inside a blizzard warning in South Dakota - KMSP-TV http://www.myfoxtwincities.com/story/25121827/tornado-warning-inside-a-blizzard-warning-in-south-dakota#ixzz2xfovK5Hp