ST. PAUL, Minn. (KMSP) -
The 2014 Minnesota legislative session got off to a quick start Tuesday. Here's what's happening:

PROPANE FUNDING
In a rare move, the Minnesota House of Representatives cast a unanimous vote to pass a bill that would allocate $20 million for emergency propane funding to Minnesotans suffering the chilling winter.
Just one hour after the opening gavel, the board that shows votes was awash in green -- all in support of adding money to the fund to help low-income Minnesotans with their heating bills.
Many lawmakers told stories of the trials their constituents have faced amid the supply shortage that drove prices up to nearly $5 a gallon, and the final total made it clear there was broad support in both parties -- at least in the House.
"It's not an issue that we ought to be playing any games with because the alternative is leaving people out in the cold," House Speaker Paul Thissen said. "I hope the Senate acts very quickly as well.
Do to parliamentary rules, the soonest the Senate could take up the heating assistance bill is next Monday.

BUSINESS TAX REPEAL
Another big topic that lawmakers tackled on Tuesday was taxes. Last year, a number of new business taxes were passed. Now, there is a groundswell among Democrats to repeal them.
The House Tax Committee took up 21 bills on Tuesday afternoon. Among them was a bill to repeal the warehouse tax before it takes effect on April 1 because many argue it is already driving business out of the state and costing jobs.
Republicans have seized upon the repeals, and minority leader Rep. Kurt Daudt says ensuring those taxes are stricken will be a top priority.
"Last session, we said the taxes the Democrats passed were unnecessary," he said. "We've seen now that that's the case and so our plan is to make sure that Minnesotans get their money back."
Daudt says the state surplus shows the taxes are not needed, and Thissen said he is in favor of removing some of the taxes. In fact, he hopes to align the Minnesota tax code with the federal code so that there is no marriage penalty and families can receive a state tax deduction for child care.
Gov. Mark Dayton has said he agrees with Thissen's plan; however, he is waiting to see what the budget forecast holds on Friday before deciding how much tax relief the state can afford.

MINIMUM WAGE
Thissen said the minimum wage bill is also expected to be sent back to conference. A pair of bills to raise the state's $6.15/hour minimum wage passed both the House and Senate last year, but the two sides couldn't close a deal to send a bill to Gov. Dayton's desk.
On Wednesday, President Barack Obama will be in St. Paul to discuss the minimum wage and the economy. A march is being planned to align with the visit as activists continue to call for an end to poverty-level wages in Minnesota.

GETTING AROUND
It's the first day back at the Capitol, and as with the first day of school, many lawmakers -- including Sen. Dave Senjem (R-Rochester) -- went exploring to find where the new press corps offices are.

Video: Navigating the Capitol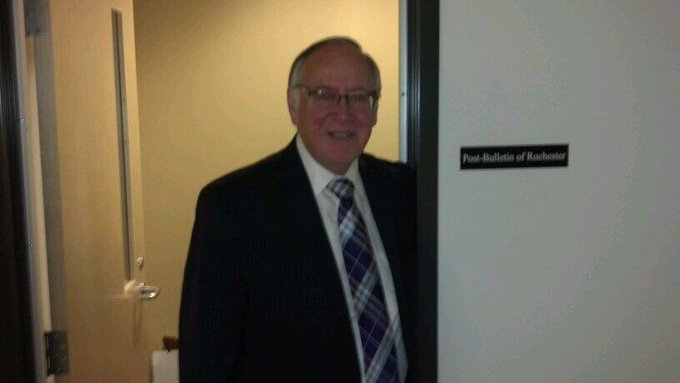 2014 SESSION: What to expect