ST. PAUL, Minn. (KMSP) -
MNsure interim CEO Scott Leitz and board chair Brian Beutner presented updates Wednesday morning before Minnesota's legislative oversight committee. Here's what you need to know:

1. 92,000 people have now signed up for health insurance through MNSure.org.

2. 92,000 enrollees is about 85 percent of the "low enrollment" scenario.
3. 98 percent of people are now able to navigate the website with only a 4 to 5 percent error rate.

4. Call center wait times have been reduced to 5 to 15 minutes.
5. 50 new call center workers started Wednesday, with another 50 scheduled to start on Feb. 19.

6. MNsure is looking at a possible deficit in 2015, which the board is trying to address.

7. MNsure is hiring a new prime IT contractor, which they hope to have in place by the end of March. MNsure took over prime IT work last spring, but it didn't work out – that's why they have issued a new request for proposal.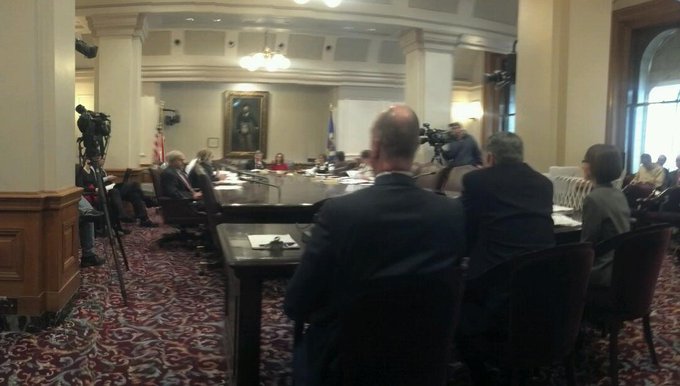 PHOTO: View from the 'hot seat' at MNsure oversight meeting
The good news is that more people are signing up, but the online marketplace still hasn't met projections. The oversight board has decided to hire a general contractor to oversee all the IT operations that have plagued the site from the start.
In health-care terms, officials say MNsure is finally showing signs of life. The latest enrollment numbers show a steady pulse of Minnesotans buying health insurance as the user experience online improves.
"I found it pretty easy to compare and contrast plans," Sinda Nichols said.
Nichols, who was previously uninsured, told the MNsure board that she was thrilled to learn her new plan costs only $175 a month.
"I actually called my husband at work and said, 'Why is no one talking about how great these plans are?'" she recalled.
Yet, even though the trend is up, enrollment is still 31 percent below where MNsure hopes to be. That's why they're beefing up the call center staffing by 100 workers to ensure Minnesotans can enroll before the March 31 deadline without enduring long wait times.
"We are running between 5 and 15 minutes now, where we were running up to 60 previously," Leitz said.
The risk is this: Additional staffing is costing MNsure money, and if enrollment doesn't improve dramatically, the exchange could be in trouble. Much will depend not only on how many people do enroll through MNsure, but also the mix of plans. Currently, more people are choosing to sign up for government health insurance, and the private, commercial plans are much lower. That will affect the reimbursement income MNsure gets.
It likely won't be known what the full mix of plans is until the final enrollment numbers are released, which is expected to occur in early April.