Just like the last month of 2013, the first month of 2014 was a cold one. On an average January day we can expect a high of about 24° and a low of about 8°, and if you average out the averages you get just under 16°, 15.6° to be exact. However, January 2014, like the rest of this winter season so far, has been anything but average. There is no surprise in what I am about to tell you, but it's always good to know what goes down in the record books.
To start off here is the month in review, the actual highs and lows experience during the first month of 2014.
Between all the negative numbers were a few spikes of warmth. In fact, the metro mercury rose above freezing ten times and even hit 40° on the 12th.
Then come the days where our temperatures never saw the positive side of zero. There were four days when we never got warmer than zero. Now, we expect our lows to go below zero, and that they did two thirds of the time. In fact, this year is the first time we have had at least 20 below zero days in January since 1982.
As far as the record books go, we have seen much colder January temps. In fact, this January's mean temperature, the highs and lows averaged out, was not even cold enough to crack the top 15 coldest. Just in case you're wondering, the 15th coldest occurred back in 1994 with a mean temperature of 4.3°. The coldest January ever was back in 1875 with a mean temperature of -3.4°.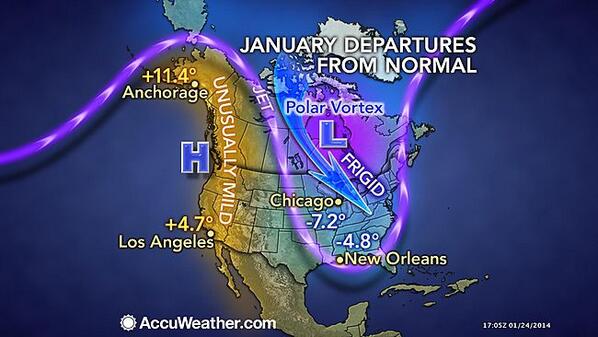 Stay warm and stay tuned, we still have month 3 of meteorological winter to go.
We would love to see your weather photos! Email them to Photos@Fox9.com . Also I hope you will LIKE my Facebook page https://www.facebook.com/#!/SteveFrazierFox9Kmsp and follow me on Twitter at @FrazierFox9. Thanks for watching! FRAZIER
Read more: FEBRUARY CLIMATOLOGY: A Look at Average - KMSP-TV http://www.myfoxtwincities.com/story/24594840/february-climatology-a-look-at-average#ixzz2sOWryKQ5