BUFFALO, Minn. (KMSP) -
Two ambulance workers are facing a long road to recovery after a head-on crash with an SUV early Saturday morning in Buffalo, Minn.
Emergency medical technician Tim Daly and paramedic Brian Nagel were driving the Allina ambulance westbound on County Road 35 when they collided with an eastbound SUV. The accident happened just before 1:30 a.m. near Eaken Avenue NE.
Daly, 43, was taken to Buffalo Hospital and expects to spend up to three months in a wheelchair.
"When the crash occurred, Tim was driving and did his best to manage the situation -- reportedly even attempting to render aid to others despite the fact that he himself suffered significant bilateral orthopedic injuries to both lower extremities,." Brian LaCroix, Allina Health EMS president said in a Facebook update.
Nagel, 30, was also taken to Buffalo Hospital but later transferred to North Memorial Medical Center in critical condition. He remains in the intensive care unit, intubated and on a ventilator. His parents flew in from Florida and his sister from New York to be at his side.
"Brian has a long road ahead, but he has literally thousands of people from across the country pulling, and praying for him," LaCroix said.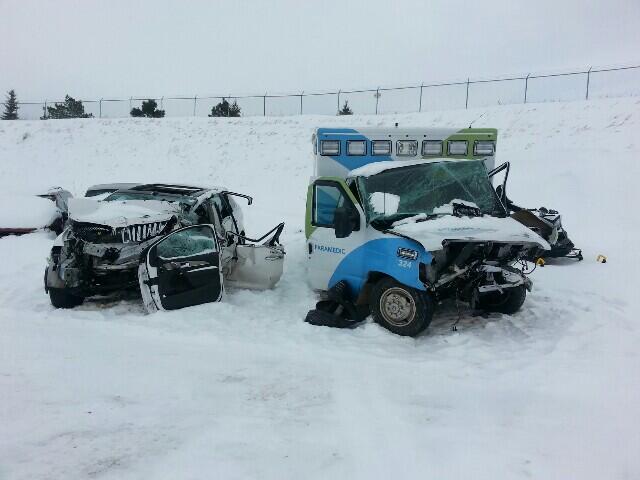 Twitter / fox9wasserman

AMBULANCE PATIENT CALLED 911

A patient was in the ambulance at the time of the crash and was the person who called 911. She was not believed to have been injured in the crash and was transferred to a different ambulance to continue on to Buffalo Hospital.
THE OTHER DRIVER
The driver of the SUV, 51-year-old Marilyn Paumen on Monticello, Minn., was taken directly to North Memorial Medical Center, where she was in critical condition Monday.

CAUSE OF CRASH

The crash happened in the middle of a snowstorm and remains under investigation by the Wright County sheriff's office. Investigators haven't been able to find the point of impact, but they are looking at the ambulance's GPS for more information.
HELPING TIM DALY
Coworkers describe Tim Daly as a "hard-working family man" who lives with his wife and three teenagers in Albertville, Minn. In addition to being an Allina EMT, Daily also volunteers with the Albertville Fire Department.
LaCroix said there is a pending offer for Allina Health EMS to team up with the Albertville Fire Department to build a temporary wheelchair ramp at Daly's house to assist with his recovery.