MINNEAPOLIS (KMSP) -
Snow totals by Thursday morning will vary greatly across Minnesota, but the North Shore could see as much as 20 inches by the end of the storm. More moderate snow totals in the 4 to 6-inch range are expected in the Twin Cities metro.

TIMELINE

Thursday night: Foggy and damp, and a drizzle of light rain or snow, possibly a mix, will continue. Minor accumulations possible (less than 1 inch) are possible.

After midnight: The wintry mix will change to snow after the midnight hour, with 1 to 2 inches potentially accumulating in the metro before the morning commute. In northern Minnesota, 3 to 6 inches could fall.

Wednesday morning: The heaviest snowfalls should come between 4 a.m. and 2 p.m. in the metro, and that's when the bulk of snow accumulation should occur. Periods of wet snow will likely add up to 2 to 5 inches in the metro, but Lake Superior could send an additional 3 to 6 inches to northern Minnesota.
Wednesday afternoon: Snow will taper in the afternoon and evening to flurries, but the cold will start to move in with gusty northwest winds that could cause blowing and drifting snow. Roads and sidewalks are expected to freeze fast as the cold air rushes in.

Thursday: Leftover light snow flurries are possible, but it will be frigid as blustery, chilling winds continue.
SCHOOL CLOSINGS
Schools were closed Tuesday in Duluth and some surrounding districts. View a list of current school closings and delays in the FOX 9 viewing area at http://bit.ly/YTlKzV

SNOW TOTALS

26" North of Two Harbors
16" Woodland
13" Duluth
11" Bruno
8.3" Bemidji
8.2" Mora

8" Grand Rapids

7.7" Brainerd
7" Hinckley
6.8" Randall
6.6" International Falls
6.3" Hewitt
5.7" Cumberland, WI
5.6" Little Falls
5.1" Rice
5.0" Rice Lake, WI
4.8" Long Prairie
3.5" Santiago
3" Alexandria
3" Brandon
3" Cambridge
WINTER STORM WARNINGS, ADVISORIES

The National Weather Service has issued a winter storm warning for much of Minnesota that will last through late Wednesday. The southern portion of the state remains in a Winter Weather Advisory.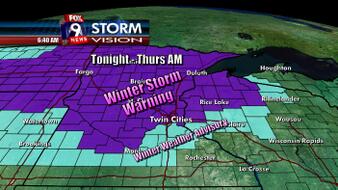 TRACK THE SNOW
Get an updated 7-day forecast and live radar at myfox9.com/weather and track the snow on the FOX 9 Weather App.
iPhone/iPad download: http://bit.ly/115QA8q
Android download: goo.gl/pmLdX